Lately I've been asking local amateurs what they'd like to see in a packet system that might bring them back to packet.  A common complaint is the slow speed of packet.  HamNet and other Mesh networks are the systems they speak of while sharing their speed-dreams.
Packet systems have offered a TCP/IP telnet capability for years,  The latest high speed network systems offer TCP/IP.  A match made in heaven?  Time will tell.  For now reserving a place for the future equipment is easy enough.  The block diagram is amended thus.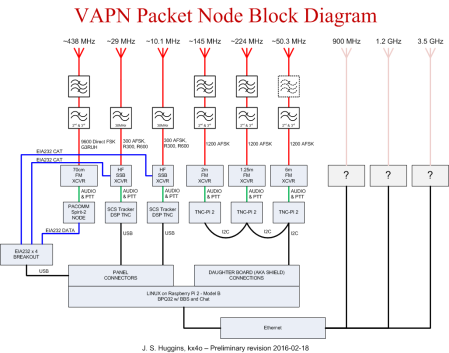 DC to Daylight?
Not quite, but the frequency range of the above system seems to try.  Adding HamNet provides the best of both worlds with a messaging system accessible by slow HF, less slow VHF up to blazing fast.  Of course the propagation differences provide the user something new… choice.