A bit of doodling in Visio yields this initial concept for the Virginia Packet Network.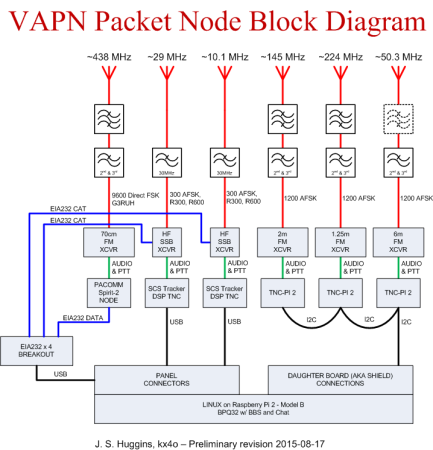 Raspberry Pi?!?
Yes that is a Raspberry Pi.  No it is not a high reliability, fault tolerant system.  Plans for an upgrade are already in the works, but let's face a very nice fact… the Raspberry Pi is a dirt cheap quad-core nice little device.  The fact TNC's are available from Coastal Chipworks further makes this a no brainer system to start the ball rolling.
A Linux hack at heart, the Raspbian OS will be a familiar environment.  Hopefully this and the Linux version of the BPQ suite will prove reliable.
RF – Keeping the landlords happy?
If things go well, this system will exist on a popular hilltop site with many other tenants and their systems.  Filtering must accomplish the following:
Low-pass filtering of the transmitter output with extra suppression of the 2nd and 3rd harmonics.  The landlords have expressed specific concerns about harmonic interference generated by our voice repeaters as well as all the other systems.  We agree, we obey and, thus, we design in these filters.
Cavity filters provide the selectivity in this RF hot hill.  A 6m can might be overkill, but the others are most certainly required if you don't want the broad RX front ends desensed.