Having some affection for the NTS system now competently run by the maverick Radio Relay International (RRI), I always do my best to move radiograms out of our ARRL Field Day site to the VAPN server as honest to goodness NT messages in BPQ32. The problem is what to do next.
Winlink?
This time I tried sending them onward through the Winlink system using the client software and a telnet connection. This involved cutting and pasting the radiogram material that seems a bit ridiculous. Whatever. I read up on what Winlink email address to send the messages to and off they went… or so it seemed when seven of ten recipients didn't receive their message. Obviously I didn't read the fine print in the bulbous amount of online documentation concerning Winlink and NTS.
Decided to snail mail the radiograms
Summer is a busy time and I don't have much to spare attempting to figure out the intricacies of the, apparently arduous, subtleties of moving a radiogram along its path via a digital route. So I simply downloaded the handy radiogram PDFs from the RRI web site. I copied the details from the original NT messages to each form and printed them for mail.
Snazzy envelope
While moving around I stumbled onto their merch page selling stamps with the RRI logo and a message suggesting to the recipient of the radiogram this isn't just some ordinary junk mail letter. It took quite a while to receive mine. but was willing to wait. Here is the red ink impression…

Snailmail Radiograms
Perhaps I'm just a bit old fashioned, but I do like how these radiogram letters look.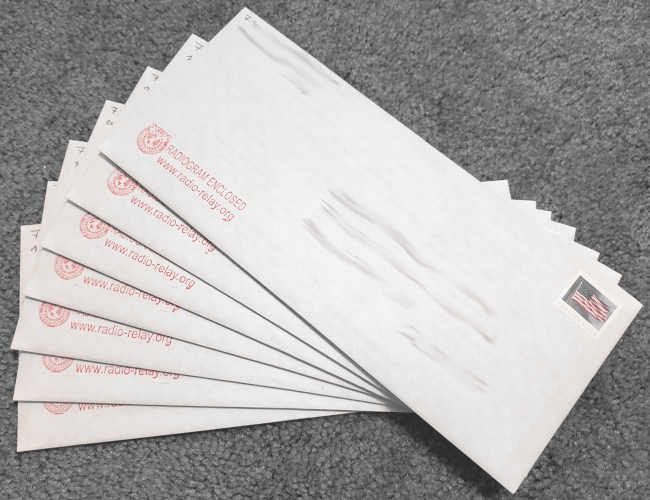 This is cheap enough for a single club's ARRL Field Day volume of ten max. The messages still made their way off site via 2m RF per the Field Day rules. All fine and dandy.
Guerrilla marketing
Getting your name in front of folks is key with the understanding it takes numerous exposures to register with your target market. Something about that red stamp just made sense to help with this cause. I would still like to get VAPN working well with the greater DTN (formally NTSd) system. In the meantime, I'm happy to just snail mail them with this great new stamp from RRI.