Thank you!!
If you just made a donation to help the VAPN Get On The Air, thank you for contributing to the cause of establishing a viable, amateur radio, Internet independent, digital communication system for Fauquier county and Northern Virginia.
A top notch, professional quality system requires engineering experience, time, effort and funds. The curators of VAPN donate a considerable amount of time and engineering talent to VAPN. Fortunately, as many amateur radio projects often are, this is a labor of love. The curators donate funds as well, but more is always needed to maintain sufficient "radio room" quality to please the all-seeing eye of our landlords. The major need for funds is in the beginning during initial rollout reducing to a much lower maintenance level afterwards.
Respondents to our band preference questionnaire tell us 2m and 10m are the first ports to rollout. The 2m packet frequency just became available at our site so that will be the first port for VAPN with 10m to follow sometime in 2017.
For those still considering a donation to the VAPN, consider contributing to our latest GoFundMe campaign.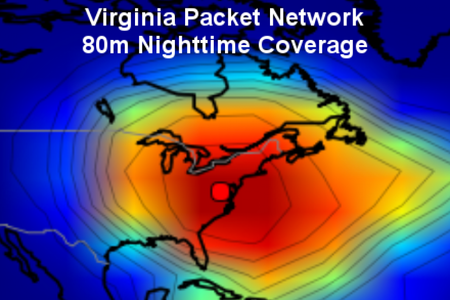 All donations are care of John Huggins, kx4o.
Email Gateway
The creators of VAPN are absorbing the costs of everything to date with some donations helping to defray expenses. We donate our engineering time as well because we love doing this. One cost we cannot absorb is the monthly rent of the server class internet machine in the cloud. It isn't much, but is enough for us to restrict vapn.org email gateway service to patrons who make a suitable donation. Traditional packet-only operation and the Winlink tunnel are, of course, 100% free.